Domaine Champalou, Vouvray Wines
Our family estate has been established in the Vouvray appellation, in the heart of the Loire Valley, since the 1980s.
It is here that we work the king of the Loire grape variety, locally called the Pineau de Loire: the Chenin. It allows us to produce white Vouvray wines with multiple balances, sparkling or still. Depending on the terroir, our Chenin wines are dry, tender, semi-sweet, sweet or liqueurous.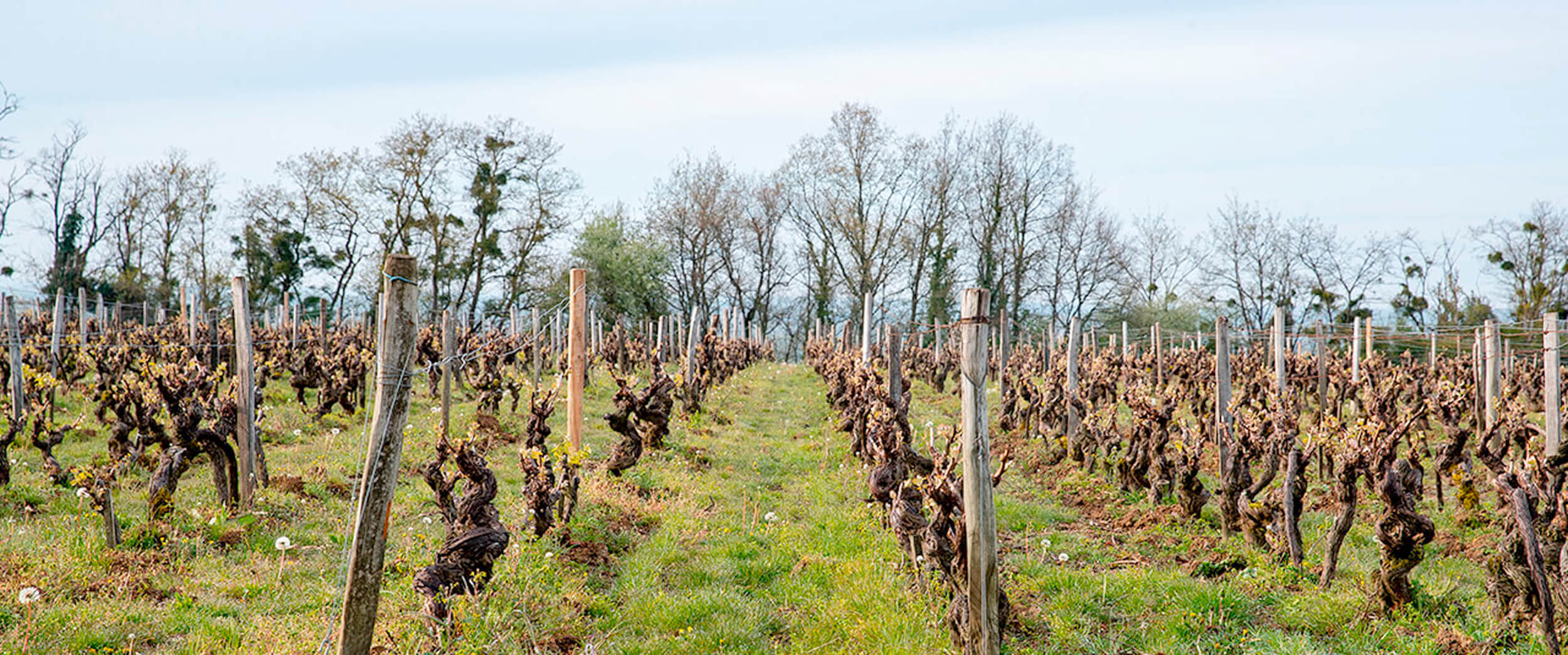 Le Chenin, un cépage unique dont la complexité s'exprime à merveille sur les terrains argileux de notre région ligérienne de Vouvray.
Vouvray, an appellation with a very nuanced palette.
Vouvray is a unique appellation of 2,200 hectares of chenin spread over 8 villages located between Amboise and Tours, on the northern bank of the Loire.
Vouvray has always been associated with the vine and gastronomy. It is said that from the 4th century, Saint-Martin, the Bishop of Tours, had grapevines planted for the benefit of the clergy and the sick. Particular pruning methods are still used today. In 1936, Vouvray was the first terroir recognized in the Touraine by the INAO as an Appellation d'Origine Contrôlée.
What marks the exception of our appellation is that the chenin expresses itself in different facets. Depending on its terroir and its vinification, Vouvray wines can be sparkling, dry, semi-sweet, sweet and liqueurous.
Vouvray wines are an infinity of flavors and culinary fantasies...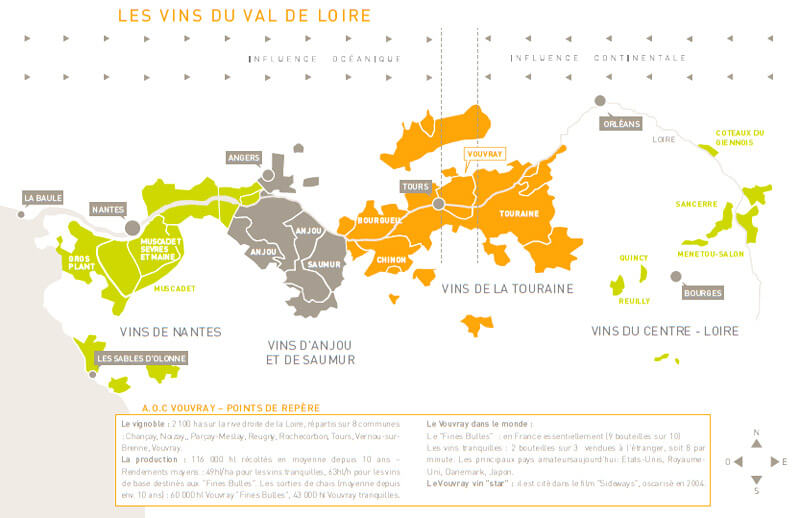 Vouvray: single varietal wines to keep the Chenin in balance.
We work with only one grape variety: the Chenin. Its complexity is expressed wonderfully on the clay soils of our Loire region around Vouvray. Originally from the Loire Valley, he is cited in "Gargantua" by François Rabelais (1534), a well known author from the Touraine.
"And with big chenin grapes steamed the legs of cute Frogier, so much so that he was tanstot guerry."
Chenin gives birth to very fine dry, semi-sweet and sparkling white wines. With a favorable weather late in the season, we have the possibility of producing sweet and liqueur wines. The latter is a result from passerillage (combination of wind and warm temperatures) or from the presence of noble rot (Botrytis Cinerea).
Whether dry or sweet, the wines from the Chenin can be kept for ten, twenty or even more years ... They are aperitif wines but also gastronomy wines. Dry wines go well with seafood, fish and grilled meats and Japanese cuisine. Fish bathed in a delectable sauce, white meats with cream and exotic cuisine combine perfectly with our semi-sweet wines. Finally, the sweet and liqueur wines are the companions of foie gras, blue cheeses and desserts.
Vouvray, essential element of the Loire Valley gastronomy
To highlight a few pairs with the regional products on the Loire Valley, a dry Vouvray goes perfectly with rillettes and rillons. A sparkling wine from Vouvray marries well with a tarte vigneronne and macaroons. A semi-sweet wine makes it possible to gayly wash down a goat cheese from Sainte-Maure-de-Touraine, Valençay, Pouligny Saint-Pierre or from Selles-sur-Cher.
Our terroirs and our plot selection
We currently manage 25 hectares of chenin. Our vineyard is spread around the village of Vouvray as well as the neighboring towns of Rochecorbon and Vernou-sur-Brenne. We enjoy a beautiful diversity of terroir and… a parade against possible climatic incidents that could ravage it locally.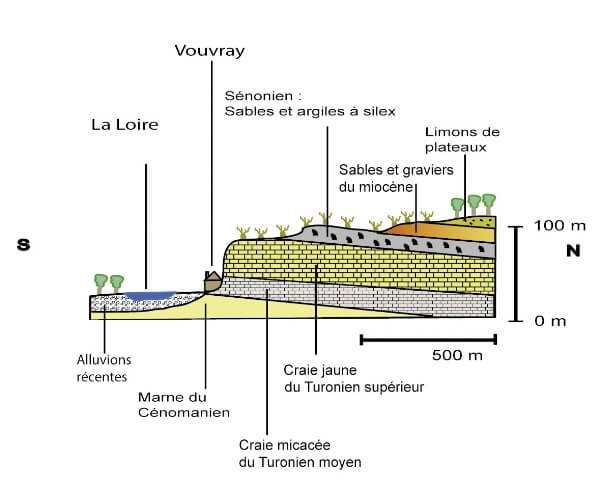 The terroir the most representative in surface area of our vineyard is clay-limestone. It is found on the plateau above the Loire and produces wines combining fruitiness and minerality. It is the cradle of our sparkling Brut and Sec Classic wines .
Located on the hillsides, the clay-siliceous soil brings great tension to the grapes. This is where Les Fondraux , La Moelleuse and Les Tries find their roots. This terroir transmits notes of white flowers and gives a suave character to our wines, worked with residual sugars.
Finally, we are fortunate to have a very particular terroir of clay pockets with very beautiful soil. The clay is placed on the tuffeau, limestone rock in which our cellar is dug. This contact between the soil and the subsoil brings body, roundness and structure to our wine "Le Portail ".
A whole diversity that only the Chenin can reveal…